The Oregon Women's History Consortium (OWHC) is a 501c3 educational organization that provides leadership to support research and education related to the history of women in Oregon.
Established in 2010, the Oregon Women's History Consortium led the statewide commemoration of the centennial of Oregon women gaining the right to vote in 2012, Century of Action: Oregon Women Vote, 1912-2012.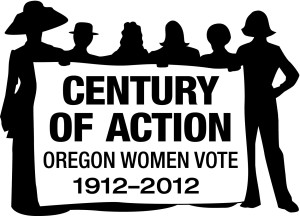 Beginning in fall 2015, the OWHC will sponsor two annual research fellowships to support new scholarship in the field of Oregon women's history. If you wish to receive email updates about the OWHC and its research fellowship please fill out our contact form.