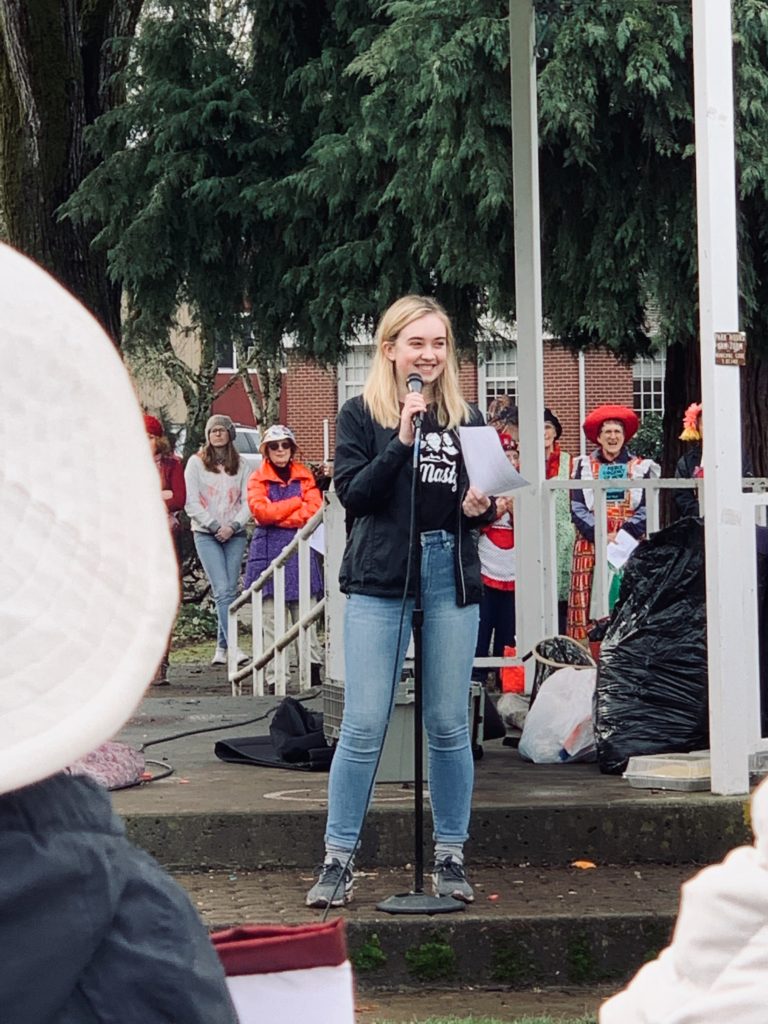 In Spring Term 2019, Tori Cook, Alyssa Hendricks and JD Queja in Professor Kimberly Jensen's Women in Oregon History class at Western Oregon University interviewed Ms. Ella Morton about the Nineteenth Amendment centenary and the importance of the vote. Ms. Morton is an advocate for voter registration and is active in Corvallis High School's Young Democratic Socialists Club. In her responses Ms. Morton discusses the importance of voter participation as well as positive progression of women in her community.
Q: In your view, why is voting important?
Ella Morton: I believe that voting is one of the most important ways for citizens to use their voices, in addition to our first amendment right to gather and protest peacefully. In our representative democracy, voting is one of the only ways citizens can have direct input into the laws that govern their everyday lives. The process of elections also forces politicians to have clear goals they wish to establish in their term, or else no one will vote for them. The only way our democracy works is if a majority of the citizens participate in elections, like the incredible turnout at the recent midterm elections. There, the younger voters really made their voices heard, and we are seeing the effects; Alexandria Ocasio-Cortez and other representatives and senators are standing up to corrupt politicians, and making sure the needs of the people they stand for are met.
Q: What barriers to voting have some Oregon women experienced?
Ella Morton: On the way to getting the right to vote, I think the greatest barrier Oregon women faced was the fear of being the first person to speak out about their desire to have that right, and the fear of what others might say if you do. If you look at Abigail Scott Duniway, she was very outspoken about suffrage, but she found it extremely difficult to find someone to come with her to testify before the Oregon legislature. The media played a large role in that fear, with the primarily male run newspapers promoting the narrative that women don't deserve the right to vote, and the husbands, fathers, and brothers of women delivering that sentiment straight to their faces.
Q: How have some women used the vote as a tool for social change?
Ella Morton: One of the impressive women in my community, Sara Gelser, represents my district (District 8) in the Oregon senate. She elevated strangulation to a felony, strengthened the rape statute, and did work on improving child abuse investigations. She was sexually harassed and received unwanted attention on the House floor, from a fellow representative. Her bravery in speaking out and filing a formal complaint is very inspiring and it is so important that young people who might be going through the same thing have someone to look up to that isn't backing down. We never would have had amazing women like Gelser in our legislature if the ball didn't start with women gaining the right to vote.
Q: What additional points do you feel are important for us to consider as we commemorate the ratification of the Nineteenth Amendment?
Ella Morton: I think it's important to recognize that women of color had trouble with voting long after the Nineteenth Amendment. The Voting Rights act wasn't signed until 1965.