August 1920 and Women Across Oregon
On August 26, 1920, the United States officially ratified the Nineteenth Amendment, placing women's voting rights into the federal Constitution. The articles, editorials, editorial cartoons, and advertisements from Oregon newspapers featured here provide important context. Most Oregon women had been voting citizens since 1912. How did newspaper editors react to the ratification of the Nineteenth Amendment? What articles did they feature? What images appeared in editorial cartoons and advertisements? How does other information about women in these sources tell us about various women's views and activities, about the level of acceptance of women voters, and about resistance and continuing gender stereotypes?
Browse the entire page, or jump to each section here:
---


Oregon Watches Tennessee, the Last State to Ratify the 19th Amendment

Tennessee, the final state to ratify the 19th Amendment,  tried to reverse their vote. On August 31st, in Nashville, the Tennessee House of Representatives met to discuss their reconsideration of their vote. Governor Roberts did not make a statement on the matter, as the situation would take a lot of legal channels to proceed. Some opinions on the debate were that Tennessee's actions were impossible as the process in Congress to approve the 19th Amendment had already begun. But this didn't stop anti-suffragists. Working with Alabama, Tennessee legislators opposed to woman suffrage set forth to put their plan in action. They felt like they let down the South and were worried that the suffrage movement would lead to Blacks voting. Although Blacks did have the right to vote, the South still created barriers within their state laws to make it as difficult as possible.
–"Tennessee House Disowns Suffrage," Morning Oregonian, September 1, 1920, 4. (Bella Magdaleno, March 2018)

At the end of August 1920, the news of anti-suffrage support in Tennessee swept the nation. Racism was still rampant after ratification of the 15th Amendment in 1870, which outlawed any state government from denying a citizen the right to vote based on race or skin color. Racism was also evident in Tennessee's reaction to the 19th Amendment. Tennessee legislators attempted to revoke their decision to ratify the 19th Amendment for racial reasons, and the editors of the Morning Oregonian reacted with outrage. Their references to Susan B. Anthony and her work demonstrate the strength of the suffragist movement and support for it. The editors make it clear that they believe "law is on the side of the women," and nothing Tennessee did could revoke their new-found right.
–"Suffrage and Tennessee," Morning Oregonian, September 4, 1920, 8. (Sara Madden, March 2018)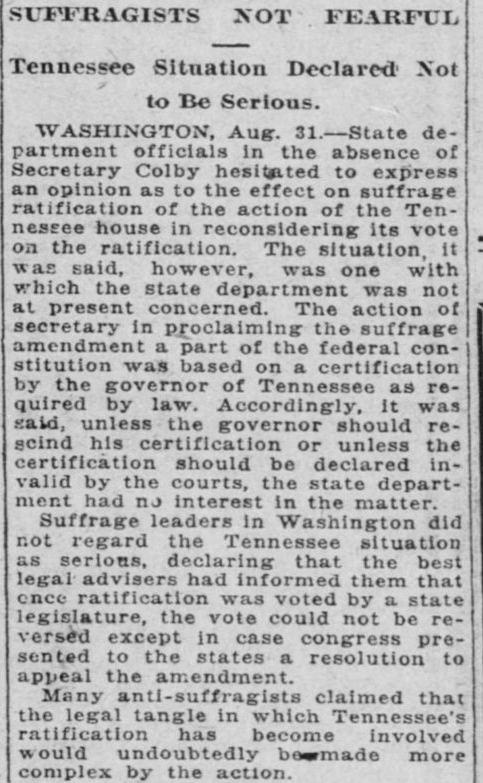 Without Secretary of State Colby in town, State Department officials were unsure how to react to Tennessee wanting to pull back on their vote for ratification. Thankfully no one was too worried as the situation was deemed not very serious. In order for Tennessee to take back their vote, it would have to be determined in a court of law, which was highly unlikely to happen since the process of the signing off on the Amendment had already started. Anti-suffragists used Tennessee's ambiguity as a way to push for more action to stop ratification. Again, not many were concerned because women had won.
–"Suffragists Not Fearful," Morning Oregonian, September 1, 1920, 4. (Bella Magdaleno, March 2018)
---
Ratification of the 19th Amendment: Disappointments and Celebration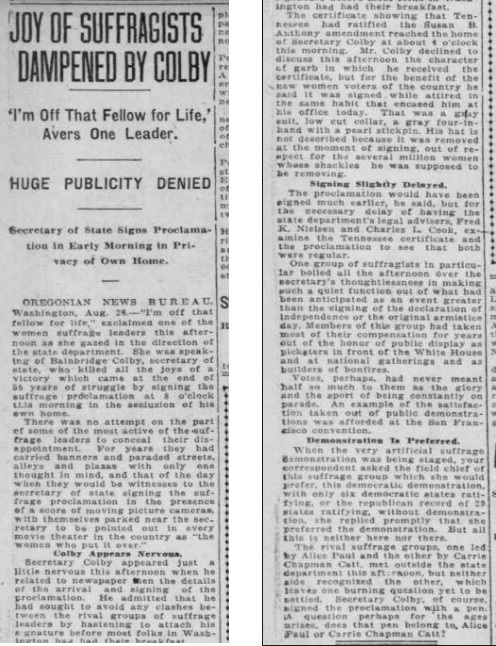 After a hard-fought battle, woman suffragists across the United States tasted victory on August 26, 1920 with the signing of the 19th Amendment. Secretary of State Bainbridge Colby elected to sign the Amendment privately, in his home at 8:00 in the morning. This unceremonious event "dampened" the victory for suffrage leaders, who had envisioned a grand demonstration to celebrate ratification of the Susan B. Anthony Amendment. The author of this article, from the Oregon News Bureau in Washington D.C. accuses disappointed suffragists of being more interested in "the glory and the sport of being constantly on parade" than in actually winning the vote.
–"Joy of Suffragists Dampened by Colby," Morning Oregonian, August 27, 1920, 6. (Rachel Bayly, March 2018)

On August 28, 1920, 230 Oregon suffragists gathered at the Benson Hotel in Portland to celebrate not only the national victory of woman suffrage, but also the women who spent many years fighting for this cause. At the celebration pioneers of suffrage movement Sarah A. Evans, Helen Ekin Starrett, Mrs. M.L.T. Hidden, Eva Emery Dye, Mrs. Bronson Salmon, Dr. Viola May Coe, Martha [Mrs. Vincent] Cook, Mrs. Ada Wallace Unruh, Mrs. Millie R. Trumbull, Dr. Esther Pohl Lovejoy as well as Mayor George Baker spoke about the journey to victory and what the future holds for women.
— "Suffragists Here Celebrate Victory," Sunday Oregonian, August 29, 1920, 20. (Antonia Scholerman, March 2018)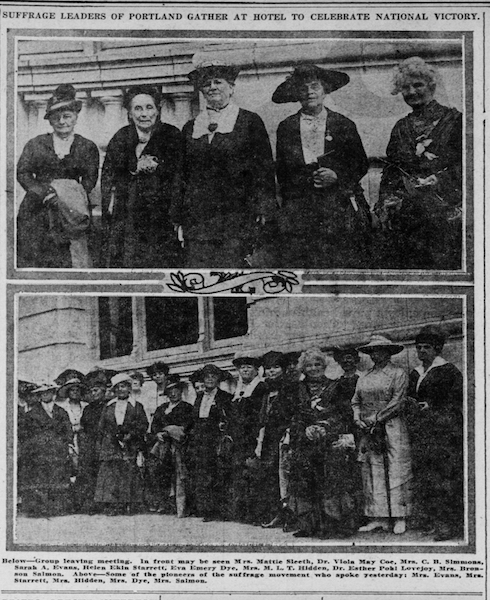 This picture accompanies the article "Suffragists Here Celebrate Victory." The caption reads: "Below: Group Leaving Meeting. In front may be seen Mrs. Mattie Sleeth, Dr. Viola May Coe, [Effie] Mrs. C. B. Simmons, Sarah A. Evans, Helen Ekin Starrett, Eva Emery Dye, Mrs. M. L. T. Hidden, Dr. Esther Pohl Lovejoy, Mrs. Bronson Salmon. Above—Some of the pioneers of the suffrage movement who spoke yesterday: Mrs. Evans, Mrs. Starrett, Mrs. Hidden, Mrs. Dye, Mrs. Salmon."
— "Suffrage Leaders of Portland Gather at Hotel to Celebrate National Victory," Sunday Oregonian, August 29, 1920, 20. (Antonia Scholerman, March 2018)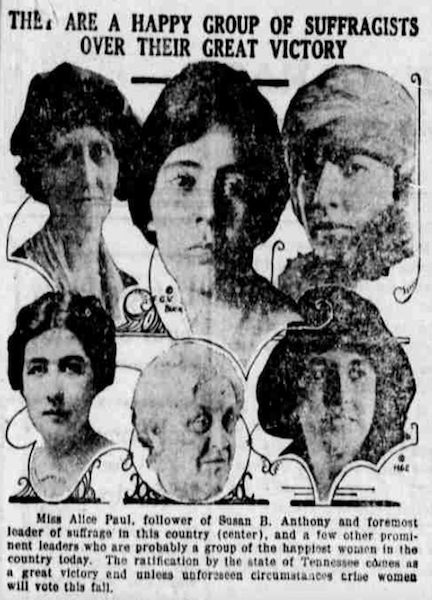 The Monmouth Herald pictured a montage of suffragists after the August 1920 ratification of the 19th Amendment. Among the six national suffrage leaders that are shown, Carrie Chapman Catt is pictured along with Alice Paul, who was considered to be much more militant and radical than Catt. These women represent conflicting ideas within the suffrage movement. Though there were many beliefs of how to best fight for voting rights, after the Tennessee ratification differing opinions on specific tactics did not effect their happiness over their shared victory.
— "They Are A Happy Group Of Suffragists Over Their Great Victory," Monmouth Herald, August 27, 1920, 5. (Sierra Fresh, March 2018)
---
Editorial Cartoons

On the front page of the Morning Oregonian, a cartoon by artist H. H. Perry was published to show support for women and condemn bad social behavior by men. While the illustrated woman appears to be minding her own business, simply walking down the street, there are several men focusing on her in an obnoxious manner. Perry also includes a small dog and cat to the right of the drawing which seem to look concerned for the woman. Overall, the cartoon advocates for better treatment of women within their progressing society.
— H. H. Perry, "While We Are Cleaning Up Other Things, Why Not Clean Up The Sidewalks Too?", Morning Oregonian, August 23, 1920, 1. (Rachel Worley, March 2018)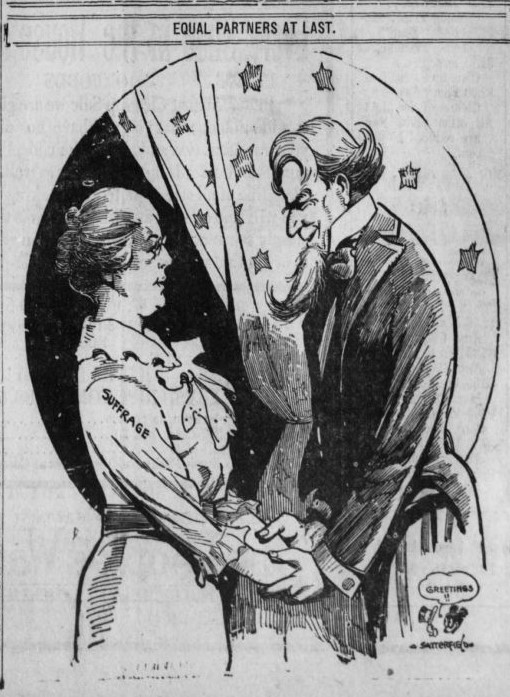 This editorial cartoon drawn by Robert Satterfield, a syndicated cartoonist based in Chicago, shows Uncle Sam and a female figure representing woman suffrage (potentially Carrie Chapman Catt) together. Uncle Sam's face has softened as he smiles at his sweetheart. The woman smiling back at him is middle aged or older with modest, stylish dress and the word "suffrage" emblazoned on her sleeve. She is a relatable and respected figure–there is nothing absurd or mocking in her depiction. Based on their upright posture and respectful distance, it appears that these two are "Equal Partners At Last."
–Robert Satterfield. "Equal Partners at Last," East Oregonian, August 27, 1920, 1 (Brianne Moodie, March 2018)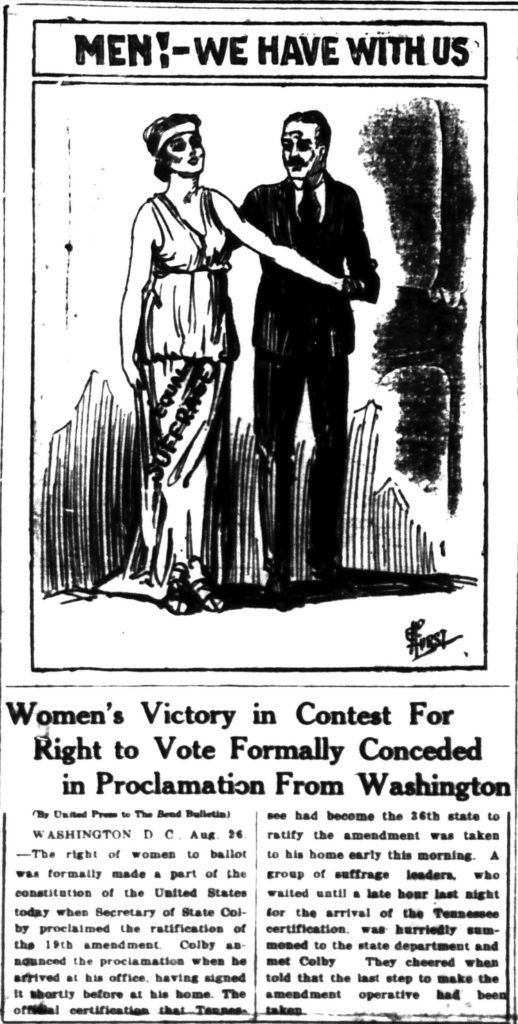 The Bend Daily Bulletin featured a more modern suffragist in an editorial cartoon from the United Press accompanying the announcement of the 19th Amendment ratification.
"Men! We Have With Us," Bend Daily Bulletin, August 26, 1920 1.
---
How Will Women Use Their Votes?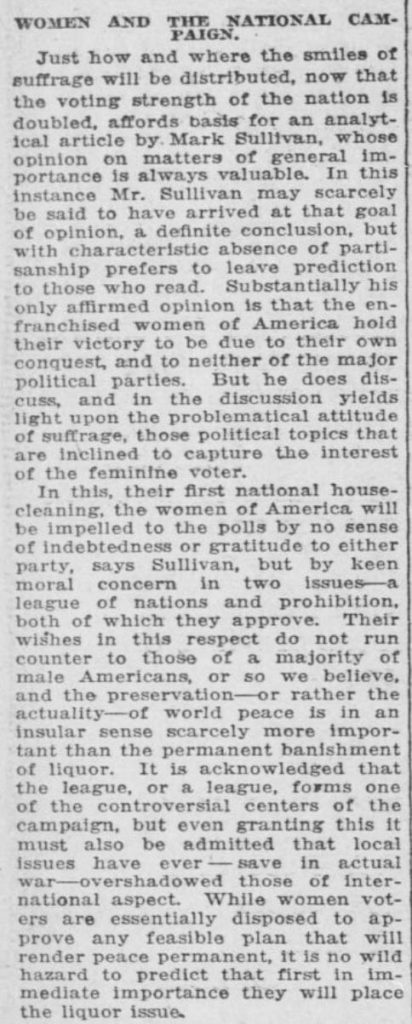 On August 30, 1920 the editors of the Oregonian agreed with nationally syndicated reporter Mark Sullivan's opinion that women voters were a new force for change. The election that fall 1920 would feature votes of women from all states, the first "national housecleaning." The editors predicted women would support world peace through a League of Nations and the prohibition of alcohol and vote with "moral concern" rather than by party.
–"Women and the National Campaign," Oregonian, August 30, 1920, 6. (Kristin Bewersdorff, March 2018)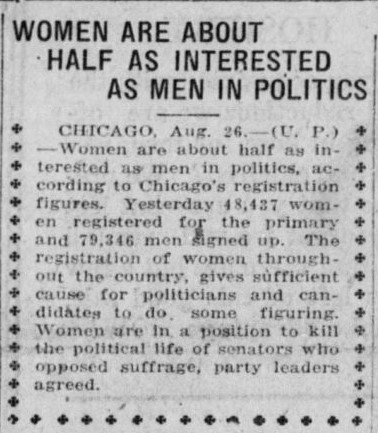 The East Oregonian ran claims from United Press news wire that women were "half as interested as men in politics" on the day suffrage was ratified. They argued that the 48,437 women and 79,346 men who registered on the day prior was enough cause for politicians to "do some figuring." Despite an apparent disinterest in politics women could  "kill the political life of senators who opposed suffrage." It is important to note that this article is sourced from Chicago, and not from a local journalist.  The East Oregonian likely ran this piece to deflate claims that women would take the political world by storm, placating the opposition while reassuring supporters of their individual power.
–"Women Half as Interested as Men in Politics," East Oregonian, August 26, 1920, 1. (Brianne Moodie, March 2018)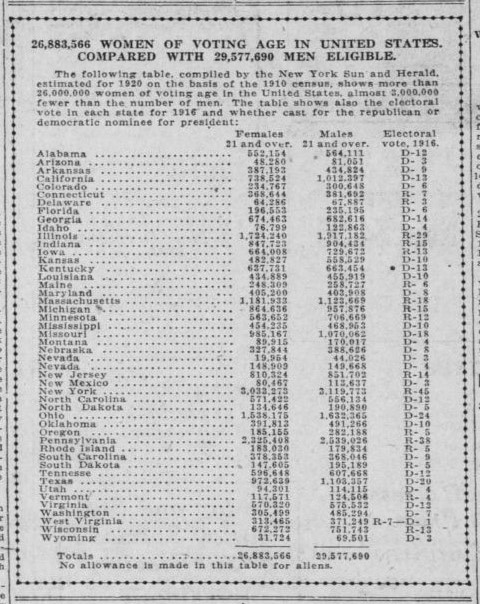 Ratification of the 19th Amendment in August 1920 meant that women across the United States would have the right to vote in the November 1920 presidential election. This table displays the estimated number of male and female voters by state, as well as states' electoral votes and party preferences from the 1916 election. The introduction of woman suffrage brought uncertainty to the 1920 election. With a voting population almost twice as large as before, female candidates running for office, and new ideas about government responsibilities, the election would no doubt bring change from the past and a look at the future of U.S. Government.
–"26,883,556 Women of Voting Age in United States, Compared with 29,577,690 Men Eligible," Morning Oregonian, August 27, 1920, 6. (Rachel Bayly, March 2018)
---
Pursuing Higher Education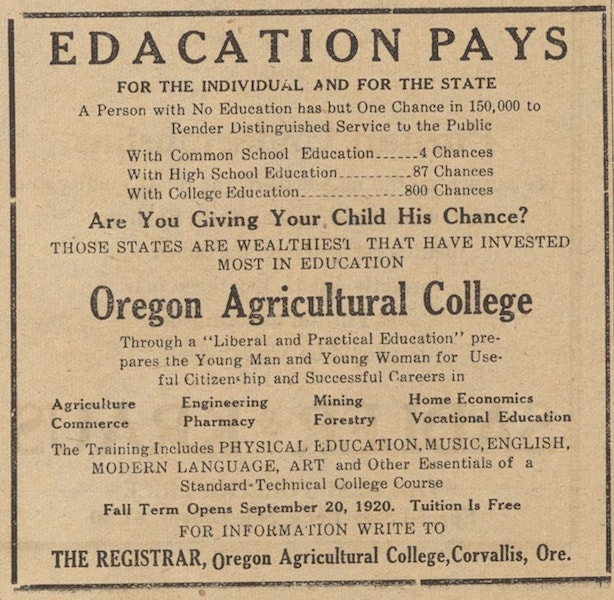 This advertisement for Oregon Agricultural College [now Oregon State University] is very appropriate for an audience such as the audience for the Aurora Observer, a small agrarian community in Marion County. This advertisement is aimed at both men and women, urging them to attend the college in Corvallis. This article demonstrates that while women were winning the battle for the vote, they had been also working to be represented in higher education.
— "Ed[u]cation Pays," Aurora Observer, August 12, 1920, 2. (Carter Craig, March, 2018)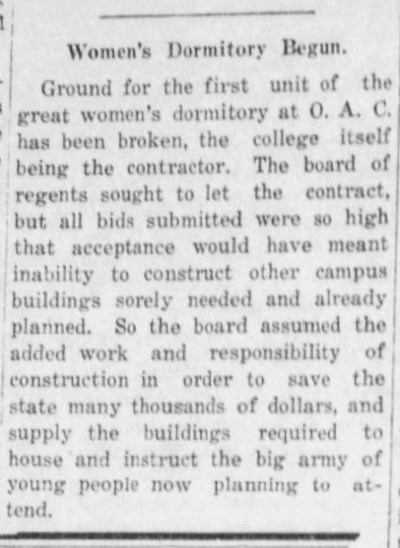 Oregon Agricultural College [currently Oregon State University] breaks ground for a women's dormitory as of August 20, 1920. The college needed to expand to "house and instruct the big army of young people now planning to attend." The college itself was the contractor because "all bids submitted were so high that acceptance would have meant inability to construct other campus buildings sorely needed." This means that the number of prospective female students for O.A.C. was large enough to warrant a new all-female dormitory.
–"Women's Dormitory Begun," Independence Enterprise, August 20, 1920, 6. (Katelyn Rule, March 2018)
---
Backlash and Continuing Stereotypes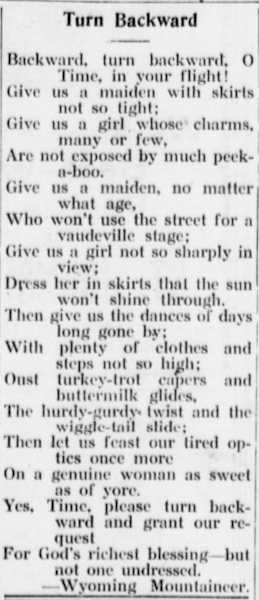 This poem speaks of longing for a time in the past when women were more modest, both in the way they dressed and in the views they held. Originally from the Wyoming Mountaineer, it appears that the editor of the St. Johns Review published this poem on the front page of the paper right after the ratification of the 19th Amendment for a reason. Though many at this time were celebrating the progression of women's rights, this newspaper is expressing the desire to "turn backward."
–"Turn Backward," St. Johns Review, August 27, 1920, 1. (Rebecca Tew, March 2018)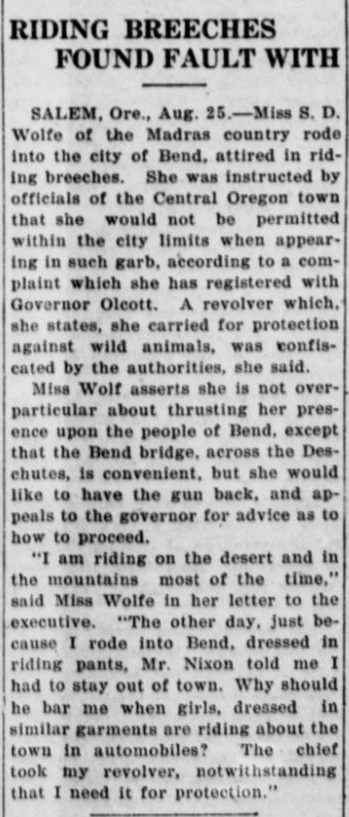 On August 25, 1920 a Miss S. D. Wolfe decided to wear riding pants for her trip into Bend, Oregon. When she reached Bend she was told by city officials that she would not be allowed in city limits while wearing such clothes. Authorities then confiscated her revolver which Miss Wolfe said she carried for protection against wild animals. Miss Wolfe registered a complaint with the Governor of Oregon, Ben Olcott, regarding this experience. The end of the article included part of her complaint to the Governor saying how illogical it was for her to be punished for wearing pants while riding a horse when other girls in the city wear pants while riding in cars.
-–"Riding Breeches Found Fault With," Bend Bulletin, August 26, 1920, 1. (Morgan Williams, March 2018)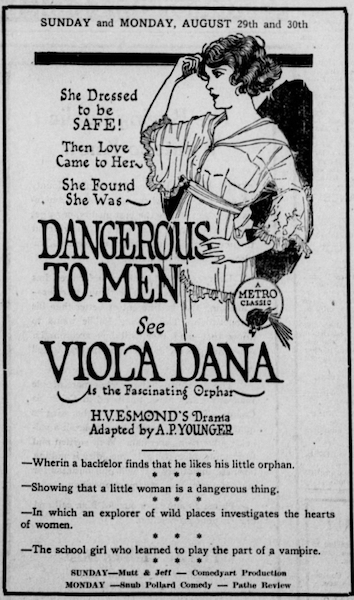 Advertisement for the premiere of the silent film "Dangerous To Men." The film focuses on women's ability to cloud men's judgement with their sexuality. The advertisement refers to the woman as a vampire (often shortened to "vamp"). At the time, this word was used in a derogatory way to describe a woman who was perceived to use her sexuality to her advantage with men. The advertisement also says that once women experience the emotion of love that they are no longer in control of the danger they cause, suggesting that women are over-emotional. This ad exemplifies one kind of cultural perception of women in the mass media and cinematic world.
–"Dangerous to Men," St. Helens Mist, August 27, 1920, 10. (Noah Johnson, March 2018)

"Polly and Her Pals,"a popular and recurring cartoon appears in an issue of the Morning Oregonian from September 3, 1920 just after the 19th Amendment was ratified. This particular cartoon by Cliff Sterrett uses humor to highlight the changing position women held in society, and the new modern view that women and men could have an equal partnership.
–"Cliff Sterrett, Polly and Her Pals: PA Loses On a Reverse Proposal," Morning Oregonian, September 3, 1920, 20. (Amanda Lehman, March 2018)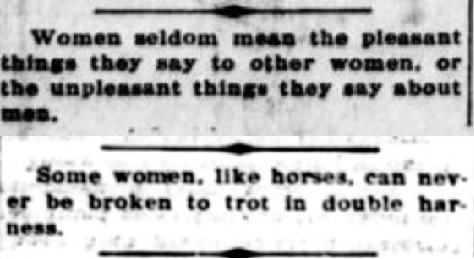 Statements from the Klamath Falls Evening Herald reflect the ideas on women's position in society closely following the ratification of the 19th Amendment. The quote, "some women, like horses, can never be broken to trot in double harness," reflects a level of recognition paired with disdain towards the women who fought for their right to vote. Some public opinion of women at this time in Klamath Falls does not appear to have been positive, as mirrored in the somewhat condescending assertion in the first statement.
–Klamath Falls Editorial Statements, Klamath Falls Evening Herald, September 1, 1920, 8. (Amanda Lehman, March 2018)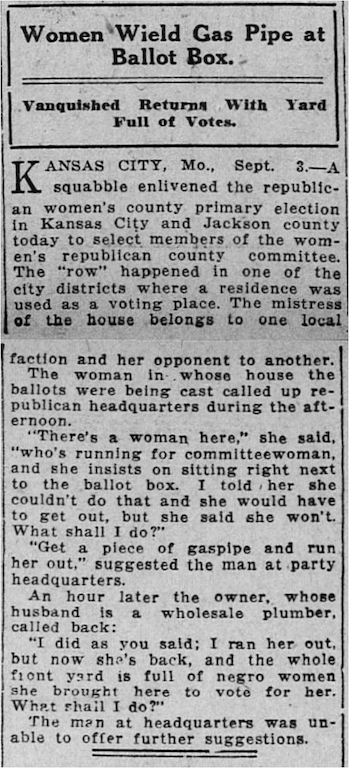 After the 19th Amendment was ratified, woman suffragists voted across the nation and ran for political office. Issues of race were not dismissed with ratification, as seen in Kansas City, Missouri during September 1920. Although African American women had the right to vote, they were not always supported by White women. "Women Wield Gas Pipe at Ballot Box" shows mistrust across the racial divide between two candidates for the women's Republican county committee and the struggle for racial equality.
–"Women Wield Gas Pipe at the Ballot Box," Morning Oregonian, September 4, 1920, 4. (Sara Madden, March 2018)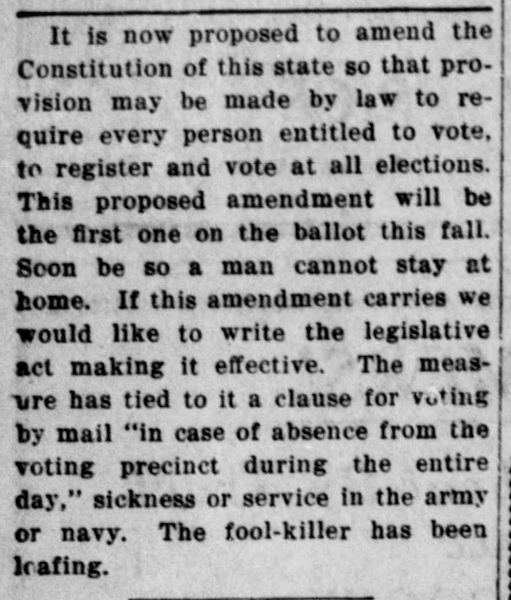 In August 1920, the editor of the Crook County Journal voiced opposition to a ballot measure requiring voting participation in a subtle, untitled paragraph. The editor suggests that the ratification of the 19th Amendment on August 18th of the same year was only the beginning of a series of unsavory voting rules. The article acts as a warning to readers about the change in voting legislation as it ends with the phrase, "The fool-killer has been loafing." This conclusion shows that, according to the editor, things have gotten out of control in state politics.
— Editorial, Crook County Journal, August 26, 1920, 4. (Rachel Worley, March 2018)