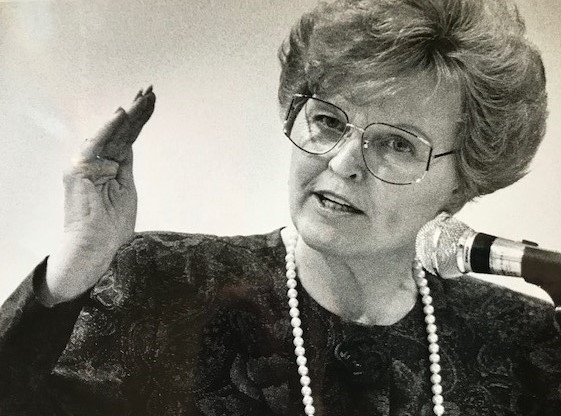 In Winter Term 2018, Kristin Bewersdorff and Sierra Fresh in Professor Kimberly Jensen's Honors Colloquium at Western Oregon University interviewed the Honorable Barbara Roberts about the Nineteenth Amendment centenary and the importance of the vote. Roberts served as a member of the Oregon House of Representatives from 1981 to 1985 and was House Majority Leader from 1983 to 1984. Oregon voters elected her Secretary of State in 1984 and she served in that post from 1985-1991. Roberts won election as Oregon's Governor in 1990, the first woman to be elected to that office, and served from 1991 to 1995. Governor Roberts shares her views on the importance of voting as part of being an active citizen, and how women earned that right after many years of hard work. She also discusses the significant role of male allies and male voters in Oregon's 1912 successful woman suffrage ballot measure, the barriers to voting many Oregon women faced in the years after 1912, and the importance of women running for elected office. Governor Roberts published her memoir Up the Capitol Steps: A Woman's March to the Governorship with Oregon State University Press in 2011.
Q: In your view, why is voting important?
Governor Roberts: I feel strongly that our vote is our voice!  If I don't vote, I remain silent on my views on ballot measures and candidates. When I cast my vote, I express my positions as a citizen, as an Oregonian, as an American.
Q: What barriers to voting have some Oregon women experienced?
Governor Roberts: Well, obviously, before 1912 no woman was allowed to vote in Oregon.  However, after 40 years of effort on the part of the women suffragists (and after five ballot defeats), the Oregon women's voting initiative finally passed by 52% in 1912. Yet that success excluded voting rights for  some Native American women, Chinese and Japanese women and some mixed-race women.
Q: How have some women used the vote as a tool for social change?
Governor Roberts: In the United States women have used both their voices and their votes to promote social change. Prohibition was actively promoted by women and by the leadership of the Women's Temperance Union. For over a decade, women's access to the ballot kept alcohol illegal until 1933.
Across the nation, women advocated and voted for candidates who supported public schools for their children. Those efforts gave America a strong public education system.
Yet, one of the most important social changes in America took place as women organized and voted to elect women to public office. Once the National Equal Rights Amendment failed in the 1970's, women said "If we can't be in our nation's constitution, we will win our places in legislative seats, Congress, and governor's chairs." And they did exactly that!
It is predicted that 2018 will see more women run for public office at every level of government than ever before in our nation's history. This will be history in-the-making. What an exciting preface to the 100-year celebration of the 19th Amendment in 2020.
Q: What additional points do you feel are important for us to consider as we commemorate the ratification of the Nineteenth Amendment?
Governor Roberts: In order for women to win their suffrage, men had to play a major part. ALL Legislators were male and their vote in favor was necessary for passage in many of the states. In Oregon MALE legislators put the ballot measure on the ballot for the decision of Oregon voters. Once Oregon's Initiative Petition law went into effect, only registered voters could sign the petition to place the issue on the ballot. ALL REGISTERED VOTERS WERE MALE. Final passage of the ballot measure was in the hands of all male voters. I think this might be an interesting area of research that rarely gets mentioned.