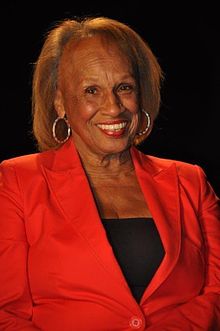 In Winter Term 2018, Antonia Scholerman and Rachel Worley in Professor Kimberly Jensen's Honors Colloquium at Western Oregon University interviewed Senator Jackie Winters about the Nineteenth Amendment centenary and the importance of the vote. Senator Winters was born in Topeka, Kansas, but later moved to Oregon where she and her family survived the Vanport Flood. While acting as Ombudsman for Governor Vic Atiyeh, she helped to form the Oregon Food Share Program. Later, she worked with her family to open several restaurants and was elected to the Senate for the first time in 2002 after serving four years in the House. She was the Republican Leader in the Oregon State Senate until her death on May 29, 2019. In her interview, Senator Winters stressed the importance of political participation and inclusion.
Q: In your view, why is voting important?
Senator Winters: Voting is important for several reasons. By voting, we determine the policies and rules and regulations that we live by, and we choose who represents us. Going back to the creation of this country, voting is one of the hallmarks of the United States. We have the right to select who or what we want our destiny to be, and who carries our voices to the Capitol, City Hall, County Commission, and all other elected bodies. All of society needs to know that their input, ideas, and views should be part of our government.
Q: What barriers to voting have some Oregon women experienced?
Senator Winters: Look back to before the laws were changed, when women were denied the right to vote. It took individuals in states around the country to finally get women the right to vote. The same thing happened with voter registration in the south for African Americans.
Q: How have some women used the vote as a tool for social change?
Senator Winters: Women have used the vote for many things. Like electing other women! Women in the Oregon Senate have worked on important issues like cervical screenings, financial issues, education, etc. Women work on social change and economic viability in communities.
Q: What additional points do you feel are important for us to consider as we commemorate the ratification of the Nineteenth Amendment?
Senator Winters: Whether it's women or minorities, contributions from all of society are important to shape how our government is going to respond in the future. It's a responsibility of all of us to exercise that right. My father always said, "You can't just sit on the couch and complain if you aren't going to be there and be part of the solution." We all have the responsibility to contribute to our society.