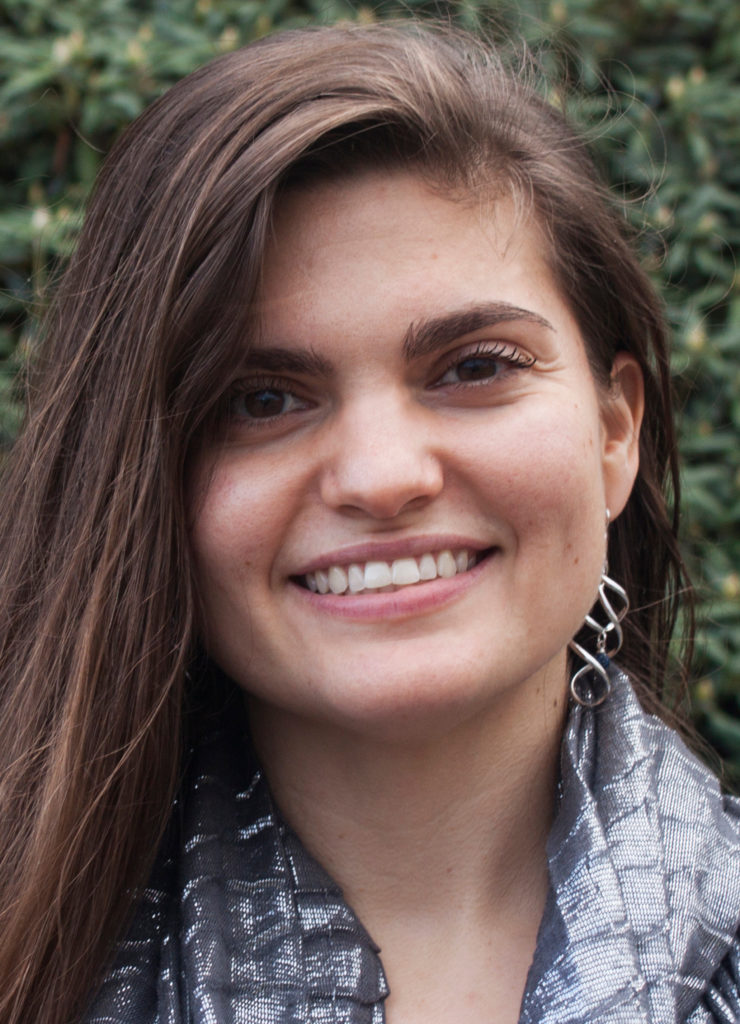 In Spring Term 2019, Andres Alvarez and Nick Sieber in Professor Kimberly Jensen's Women in Oregon History class at Western Oregon University interviewed Ms. Natalia Fernández about the Nineteenth Amendment centenary and the importance of the vote. Ms. Fernández is Curator and Archivist of the Oregon Multicultural Archives and OSU Queer Archives. She was also the recipient of the 2017 "I Love My Librarian Award" a national public service honor. Ms. Fernández spoke about the importance of understanding how our votes are not just for ourselves but for our communities, and the more we recognize the accomplishments of women involved in the suffrage movement, the more empowered our communities will be.
Q: In your view, why is voting important?

Ms. Fernández: Voting is an essential part of participating in our local and national communities. When we cast our votes, it is not just a vote for ourselves; it is a vote for our communities, for others' present and future lives. This is why being an informed voter is so important – even if a new law or policy does not appear to have a direct impact on you, it will have an impact on your fellow community members. In addition, perhaps a small sacrifice on our part will have a positive impact on the lives of others. To answer the question "why is voting important?" is to ask ourselves not only "who is representing me?" but "who is representing our communities?" and "who is making decisions for future generations?" In addition, knowing the history of women's suffrage – the long struggle to achieve the right to vote – our votes today honor the women and communities of color of the past, as well as set an example for future voters.
Q: What barriers to voting have some Oregon women experienced?
Ms. Fernández: Questions surrounding women's citizenship, race and ethnicity, and in some cases the intersectionality of those elements, have been barriers to voting for women. Women have experienced oppression due to sexism and racism from the beginning of Oregon's establishment as a state. During the creation of Oregon's constitution, when debating who could vote, the result was that only white male citizens would have the right to vote, with added prohibitions specifically against communities of color. Over 50 years later, and even after 1912, not all women in Oregon could vote due to various federal laws. For example, from 1907-1922, a woman lost her U.S. citizenship when she married a non-citizen because she would have to take on the nationality of her husband. Loss of citizenship meant the loss of her right to vote. In comparison, only a Native American woman married to a white man could vote, and it was not until 1924 federal legislation that gave all Indigenous women the vote. In both cases, the right to vote for a woman was tied to her husband. Additionally, it was not until the 1940s and 1950s that individuals from various countries in Asia, could become citizens, and with that, first generation Asian women (and men) gained the right to vote. Of course, the full histories behind these and other stories are more complex and intertwined with various socioeconomic issues and national politics. For me, learning about these histories and barriers makes me even more grateful and better understand the voting processes we have in Oregon, including vote-by-mail and the New Motor Voter Act, that are meant to break down barriers to better enable Oregonians to vote.
Q: How have some women used the vote as a tool for social change?
Ms. Fernández: Perhaps not surprisingly, in the 1914 elections, the first in which the women of Oregon could vote, voters elected two women to serve in the Oregon legislature. Since that time, many more women have been elected, and appointed by elected officials, to serve as representatives and advocates for their communities on both the local and state level. However, the level of representation is not yet representative of Oregon's population. It is imperative for a diverse and inclusive gathering of representatives be in "the room where it happens" in order to act as change agents from within the political system. With more women, especially women of color, voted into elected office, then the issues put forth, the debates that take place, and the language used to develop new laws and policies will include more ideas, perspectives, and interpretations. In this way, women and communities of color can be more proactive in shaping the decisions that impact us all, and as a society, we can move forward to achieving a truly representative democracy.
Q: What additional points do you feel are important for us to consider as we commemorate the ratification of the Nineteenth Amendment?
Ms. Fernández: As we commemorate the ratification of the Nineteenth Amendment, I would encourage others to learn the history of Oregon's women's suffrage – there are so many incredible stories of resistance and collaboration. I love the story of the four women – Mary Beatty, Abigail Scott Duniway, Maria Hendee, and Mrs. M.A. Lambert – who voted in the 1872 presidential election in Multnomah County. Although their votes were not counted, what a statement! In addition, while not perfect nor completely inclusive, the history of various communities and women of different backgrounds coming together for a common cause to campaign for the right to vote – with men as allies (men had to cast their votes for women to have the right to vote!) – is inspiring. For example, in the 1912 Oregon campaign for women's suffrage, African American women established the Colored Women's Equal Suffrage Association (CWESA), and Chinese American women in Portland created the Chinese American Equal Suffrage Society. These women gave speeches, networked, and rallied their communities together in order to ensure equality not only for themselves, but also for future generations – for us. I am incredibly proud that Oregon State University recently named a building the Hattie Redmond Women and Gender Center. Redmond was an African American Oregonian and suffragist who served as the CWESA's first secretary and later, as its president. The more that we can recognize, honor, and celebrate the accomplishments of these women, the more empowered our communities will be today.