Help Put Oregon on the Map! Virtual Map-a-thon

What is a "map-a-thon"? We fashioned it on Wikipedia-a-thons where people gather together to add important content on any subject. Often they have focused on adding women: medical professionals, scientists, engineers, artists, politicians—you get the idea. We expected to be holding gatherings of groups of people at archives and historical museums to work together to compile historical resources, share stories of the individual suffragists, anti-suffragists and organizations that made women's right to vote a reality, and then add those Oregon women's suffrage sites to the National Votes for Women Trail (NVWT) online map. Turns out that type of gathering is not possible during a pandemic. Following in the steps of our intrepid suffrage predecessors, Greta and I quickly regrouped and radically changed our plans. Today OWHC launches our virtual map-a-thon and we can't wait for you to join in on this mapping adventure!
What is a Virtual Map-a-thon?
What is a virtual "map-a-thon"? Instead of meeting together in rooms to share historical documents, names and places, and completing a nomination to the National Votes for Women Trail on the spot, we have figured out how to do it from the comfort of your home. All of the necessary historical materials have been collected into handy, shareable electronic files. Once you select a site that interests you (see list of potential site nominations below), contact us at oregon2020@oregonwomenshistory.org and we'll send those materials to you. We'll be available to answer your questions and provide support to ensure your site entry is successful.
List of potential site nominations
Included here is our first list of the Oregon locations where women, men, and organizations met, debated, and educated each other on the issue of voting rights for women. Campaign tactics ran the gamut from auto parades to handing out pamphlets at fairs, hotly debating the pro- and anti- points on women voting to handing out sandwiches to hungry male workers to persuade them in favor of the suffrage cause. And since Oregon women and men formed the first equal suffrage organization in 1872, extended voting rights to most women in 1912, and then ratified the Nineteenth Amendment in 1920, there are plenty of sites all across the great state of Oregon:
Note: Italicized items on the list are in the process of being nominated. Items in purple have been nominated and are on the map!
Astoria Equal Suffrage League: Active suffrage league that organized for "the vote" in Clatsop County
Beatrice Morrow Cannady: Journalist, black activist who worked for full suffrage for women and the black community. (Assigned to Greta Smith Wisnewski)
The Chan Family: Dr. Pesie Chan and daughters Bertie and Lillian participated in, and spoke at, a large suffrage luncheon at the Portland Hotel April 12, 1912 and remained involved in suffrage issues for many years.
Gladstone Chatauqua: 

Hosted large suffrage events and debates on the issue. (Nomination complete, site listed on NVWT map, Nominated by Gladstone Historical Society)

Corvallis College Equal Suffrage League at Oregon Agriculture College, Waldo Hall: Each college in Oregon organized an equal suffrage league, and president of the league, Emma Wold spoke to women students about the question of suffrage.
Corvallis College Equal Suffrage League: Meetings held by the College Equal Suffrage League at Corvallis.
Eva Bailey: An ardent anti-suffragist involved in five of Oregon's campaigns (Nomination complete, site listed on NVWT map. Nominated by Mary Hansen)
Eva Emery Dye: Suffragist, author, and an organizer of the Willamette Valley Chautauqua Association.(Assigned to Jenna Barganski)
Everybody's Equal Suffrage League: A novel organization created to engage working girls and women in the movement. (Nomination complete, site listed on NVWT map. Nominated by Greta Smith Wisnewski)
Grant County Woman Suffrage Association: A long-time active suffrage organization centered in Canyon City, but organized throughout Grant County.
Harriet "Hattie" Redmond: Black suffragist who led the  Colored Women's Equal Suffrage Association during the 1912 campaign. (Assigned to Cherie Savoie Tintary)
Josephine Hirsch: Served as president of the College Equal Suffrage Association in Portland. (Assigned to Judy Margles)
Katherine & Wallace McCamant: The dynamic duo of the Oregon State Association Opposed to the Extension of Suffrage to Women. (Assigned to Eliza Canty-Jones)
Kathryn Clarke: The first woman senator elected to the Oregon Legislature from Douglas County in 1914. (Nomination complete, site listed on NVWT map. Nominated by Pat Sherman)
Klamath Falls Woman's Equal Suffrage Club: A dedicated group of women who knew the value of the vote and made their own fair booth to help them spread the word on votes for women.
Lizzie K. Weeks: A dedicated black social reformer who organized voter registration and education events. (Assigned to Kimberly Jensen)
Malheur, Vale Equal Suffrage Association: This hearty group of suffragists used both local and regional supporters to gain a majority of voters to pass the suffrage measure in the 1912 election.
Marian B. Towne: The first woman representative elected to the Oregon Legislature from Jackson County and served in the 1915 session. (Assigned to Greta Smith Wisnewski)
Medford Equal Suffrage League: Denied one location to meet and organize their efforts for voting rights, they simply moved to a more welcoming location.
Medford Equal Suffrage League Suffrage Parade: Used new technology—the automobile—to engage local citizen's while they educated them on the virtues of voting rights for women.
Sara Bard Field*: Suffrage speaker at multiple events across Oregon. Field joined the Congressional Union, later the National Women's Party, and continued her activism until ratification of the 19th Amendment in 1920.*Sara Bard Field was also known as Sara Bard Field Ehrgott, which was her married name. After her divorce she went by Sara Bard Field for the rest of her life. (Nomination complete, site listed on NVWT map. Nominated by Karl Vercouteren of the Original Courthouse and Wasco County Historical Society)
Sylvia Thompson (D-The Dalles): Sponsor of House Joint Resolution No. 1, the bill to ratify the 19th Amendment. (Assigned to Layne Sawyer)
William M. "Pike" Davis: A staunch suffrage supporter he organized men around the state in favor of women suffrage.
Want to add a site from Southern Oregon? Look no further!
Like championing underdogs? Anti-suffragists await!
Highlight men involved in the suffrage movement? Check!
In addition to this first list we'll continue to compile more sites. But, we don't know every person, place, or organization involved in Oregon's decades-long suffrage movement. Perhaps you know of a person, event, or organization associated with a building or location in your city, town, or region connected to Oregon's woman suffrage history. We welcome your suggestions for nominating that site, and to learn something new ourselves. Please contact us and we'll help you determine what materials you need to document the site and use that information to submit a successful entry on the National Votes for Women Trail.
Share your story
We have shared a few recent stories of people's fun and educational experiences submitting a site to the trail here. We hope they have inspired you! And we'd love to highlight your experience–who you selected, what did you learn, and what should the rest of us know about your site! We would love to have a photograph of the site if possible. Sharing what we know is always a goal for any OWHC project!
Project goals
The goal for the NVWT project is to have 2,020 sites entered onto the map by August 26, 2020—Women's Equality Day and the exact day that the Nineteenth Amendment was certified and added to the U.S. Constitution. Currently there are 1,445 sites on the NVWT map!
Our goals for Oregon are to have at least one site in each of the state's 36 counties, and at least 50 sites overall. Currently we have 14 sites on the NVWT map in 3 counties. To meet, or exceed, these goals we need all of us to contribute a little bit and nominate one site. Those individual bits will add up to a significant collective outcome; we will all know more about our persistent, smart, clever, and determined ancestors who worked long and hard to gain access to the ballot, to let their voices be heard, and to have their opinions count.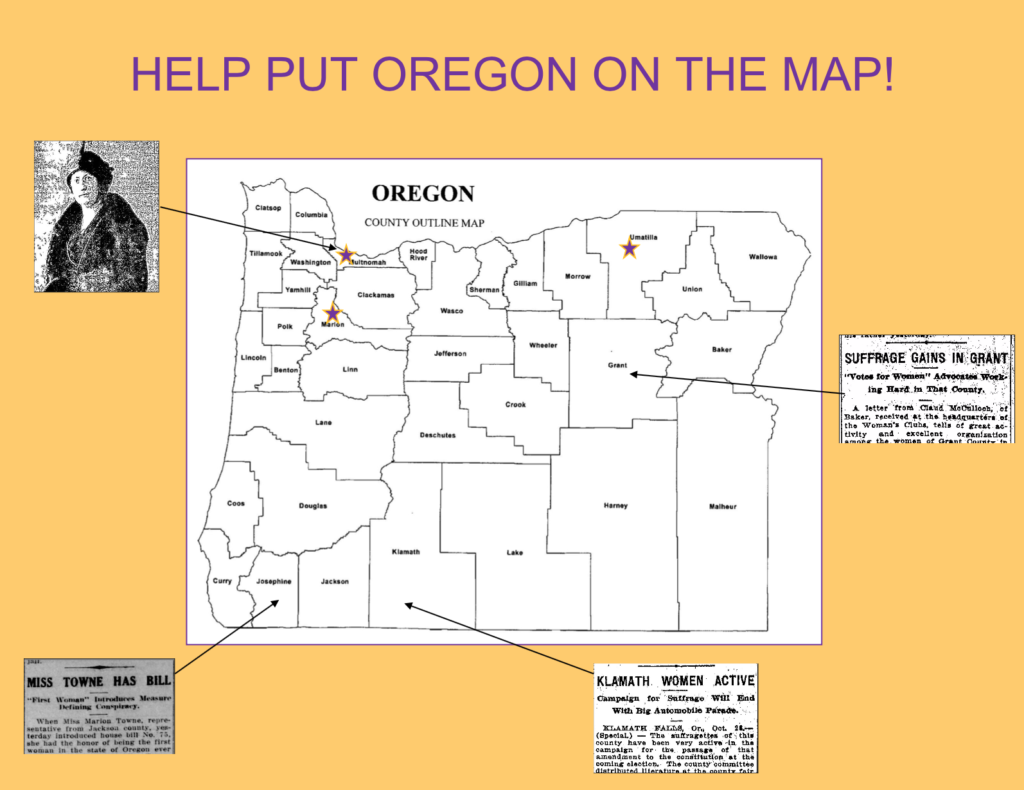 Take this once-in-a-century opportunity to Help Put Oregon on the Map!
OWHC's work on the National Votes for Women Trail is supported by a grant from The Kinsman Foundation and support from the Oregon Heritage Commission.