Click on this link to go to the online form to submit the Oregon woman suffrage site you want to have included on the National Votes for Women Trail map. There are currently 951 woman suffrage sites in the map database. Submit your suffrage site and help make the goal of 1000 sites by the end of June 2019!
You can easily scroll through the form to determine what information you will need at hand before you submit your completed form.
This is what the online form page looks like.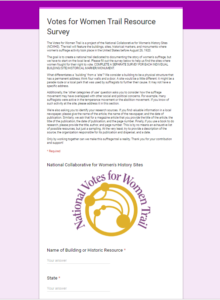 Contact the Oregon NVWT Coordinator at info@oregonwomenshistory.org if you need additional assistance.