NVWT Site Nomination Field Notes: Mary Hansen and Eva (Mrs. Francis James) Bailey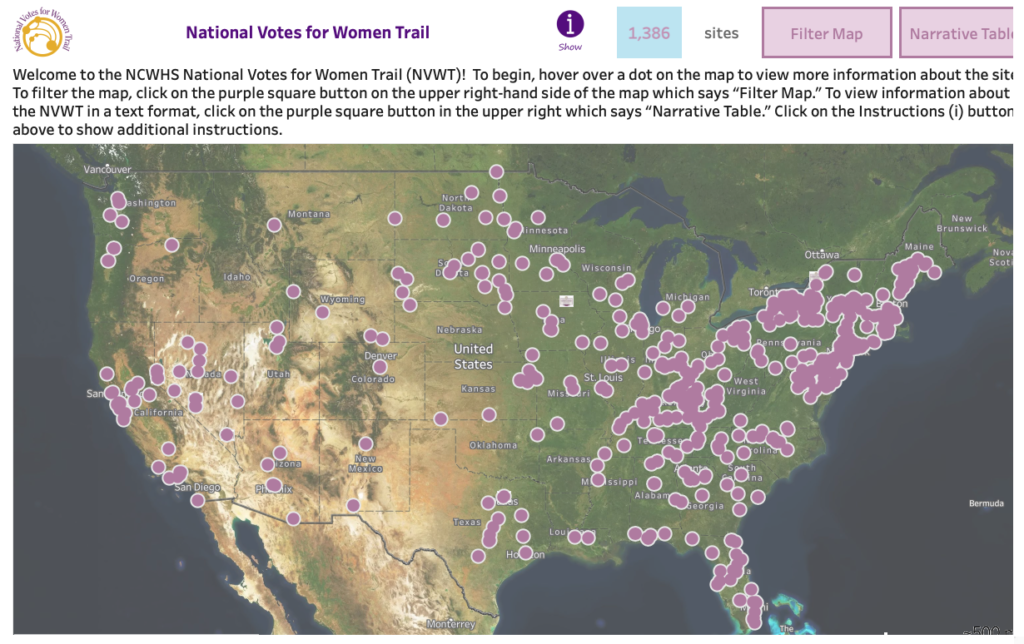 OWHC is working to nominate more Oregon sites on the National Votes for Women Trail (NVWT) map, which "seeks to recognize and celebrate the enormous diversity of people and groups active in the struggle for women's suffrage."
Currently, the map has 1,386 sites total nationally, with 13 sites in Oregon. The 1912 suffrage campaign was truly a statewide campaign, and the Oregon Legislature voted unanimously to ratify the Nineteenth Amendment in 1920. We believe every county in Oregon should be represented on the map.
We asked Mary Hansen of Portland City Archives and Records to do a site nomination for the National Votes for Women's Trail (NVWT) map. What follows is an account of her experience.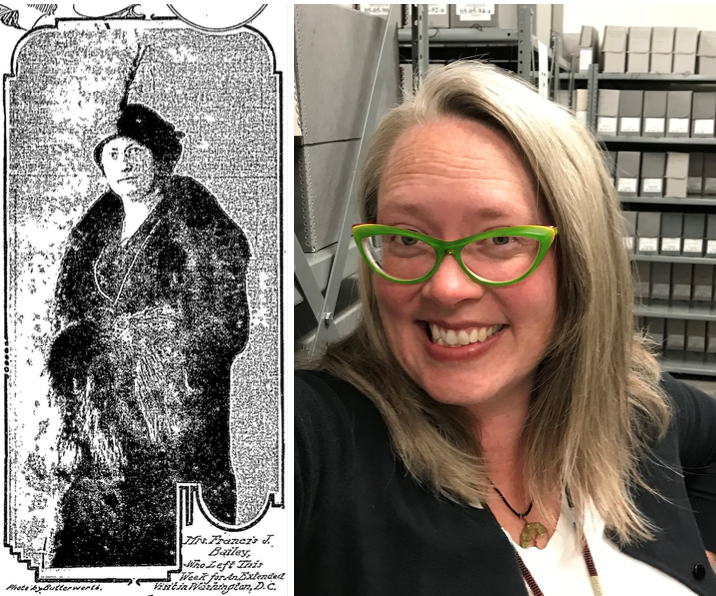 Anti suffragist Eva (Mrs. Francis James) Bailey and Archivist Mary Hansen
When Jan asked me to be "Test Mapper" for the National Votes for Women Trail, I said I would be happy to help as best I could. I am not a public historian or a historian of any kind. As an archivist, my focus is on finding the materials and letting other folks write up the history. I was glad that there is a place in this process for multiple kinds of skill sets. I also felt reassured that Jan would review my work and answer my questions about the process.
To begin, each volunteer "mapper" is given articles, census data, Polk City directory information for a particular group, place or person. I did a little more digging, but I found the materials already collected were just what I needed.
As I read through the materials for Eva Bailey (Mrs. Francis James Bailey), I was surprised to find she was an anti suffragist. She placed editorials and paid advertisements in newspapers all over Oregon talking about the dangers and burdens of women voting.
"To put upon these women a responsibility from which they have hitherto been exempted and which they do not wish to assume is not  'Woman's Rights'." Woman's Suffrage Opposition Strong, Mrs. Francis J Bailey, The Times Herald (Burns)_Oct 19, 1912, 1
The most surprising language was from a speech given by Miss. I.T. Martin from New York. Bailey, President of the Association of Women Opposed to Equal Suffrage introduced her.
"We hear a great deal about the right to vote. We all know that there is no such thing as an inherent right to vote. Voting is a duty, not a privilege, and women have been exempted from this duty and not deprived of a privilege. The obligation to vote carries with it other obligations – the right to bear arms if need be, to quell riots, to fight fires, to serve upon juries, to act as policemen. Women are absolved  from these duties, just as they are absolved from the duty of voting."
The process of entering information is quite simple and getting ii typed up in the sample form/template beforehand makes it even easier. And I was reminded again, that history repeats itself over and over.
Author Mary Hansen, Portland City Archives and Records
Interested in doing your own site nomination and helping us put Oregon on the NVWT map? Send us an email at oregon2020@oregonwomenshistory.org and we'll help you get started!